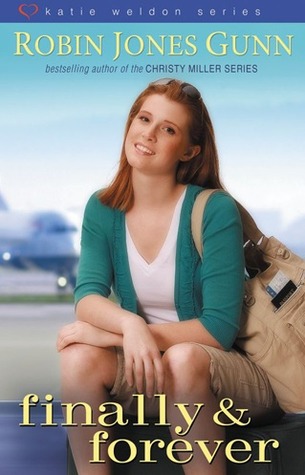 What was she thinking? Katie Weldon wonders if she was crazy to spontaneously fly off to Africa on a mission trip. Suddenly she is dealing with a new culture, a world she's never experienced---and Eli, a friend who is quickly becoming much more. It's all overwhelming ... and exciting. As her life turns topsy-turvy, however, she begins to think this might be exactly what she needs. Here, God might give her a glimpse into His will for her life. But just as Kenya and its people find a place in her heart, and her relationship with Eli begins to get serious, Katie is faced with unanswered questions from her past and unresolved issues with Eli. Is she really headed down the same path into the future he is? It doesn't look like it. Why can't she finally and forever settle into a set direction? Living in this new and captivating place, one thing she knows for sure: anything might be possible.
I GIVE THIS BOOK: 5 Stars
MY THOUGHTS:
Finally & Forever
is the fourth and final book in the
Katie Weldon
series and is a great conclusion to it. I have read and enjoyed the
Christy Miller
series, the
Sierra Jensen
series, and
Christy and Todd: the College Years
; and while I have always liked Katie she was never a favorite of mine. I now have a whole new perspective on Katie and I loved learning why she behaves the way she does. She is now quite possibly my favorite character from these series.
The ending was so sweet and perfect! I would love for there to be another series with Katie, similar to the way Christy Miller had a second series "
Christy and Todd: the College Years
". Though if I am completely honest I would love for there to be more written about Christy & Todd and Doug & Tracey too. Needless to say I completely recommend this book - it was excellent!!!
If you found this review helpful, will you please click yes HERE. Thanks!
BOOK DETAILS:
Reading level: Ages 15 and up
Paperback: 256 pages
Publisher: Zondervan; Original edition (April 23, 2012)
Language: English
ISBN-10: 0310729718
ISBN-13: 978-0310729716
Product Dimensions: 5.5 x 0.7 x 8.5 inches
Available to purchase at Amazon | Barnes & Noble | Christian Book
ABOUT THE AUTHOR:
Robin's first grade teacher wrote on her report card, "Robin keeps the entire class entertained at rug time with her stories."
Even with such an early affirmation, Robin didn't think much about becoming a writer during high school or college. She was more intrigued by the idea of traveling to foreign lands and telling people about God's love.
But Robin's husband also noticed her gift for storytelling and urged her to attend a writers' conference. That first conference, in 1979, opened the door for publication of devotions, articles, interviews and 14 children's books.
When her two children were young, Robin would rise at 3 a.m. and brew a pot of tea. Then she would go to work, creating stories for teens that later became the Christy Miller, Sierra Jensen, and College Years books.
Robin's first novel was published in 1988, and she has continued to write between two to five books a year. Her 63 published books include 47 novels, all of which are still in print. Sales of her popular Christy Miller Series, Glenbrooke Series and Sisterchicks Series are approaching four million copies sold, with translations in nine languages.
Robin's passion for storytelling and travel are evident in all her books, especially the Sisterchicks novels, and she has received thousands of letters from readers around the world who have come to know Christ through her writing. She sees this as her dream come true. Her novels are traveling to foreign lands and her characters are doing what she always longed to do; telling people about God's love.